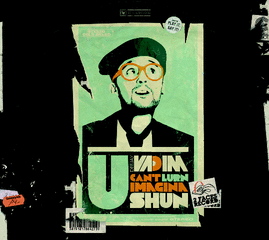 from the Creative Commons blog.


Having played over 1600 gigs in over 60 countries, DJ Vadim is no stranger to the concept of 'fan interaction'. Beyond his live shows, Vadim pushes experiments with interaction further, having held a remix contest at ccMixter a little under two years ago to promote his album The Sound Catcher. The contest was a great success, and as a result Vadim, active as both a DJ and producer, is back at ccMixter doing the same thing with his latest album U Can't Lurn Imaginashun.

The contest is in full swing, with winners receiving inclusion in Imaginashun - Power to the people, an album filled "with remixes from pro's and bedroom producers from around the world" slated for release this autumn. We caught up with DJ Vadim to learn a bit more about his creative process and how he views the changing nature of interaction and communication in music. Read on to see what he had to say.
Get started with the files and info
here
. : )