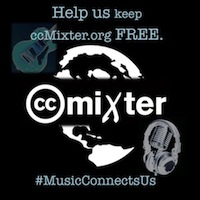 Musicians all around the world collectively create, collaborate and remix together at
ccMixter.org
. Run entirely by by volunteers and
supported
by generous people like you, ccMixter is free of ads and free for musicians and its
35,000 original song and sample library
is safe for
other creators
to use with
Attribution
.
Many ccMixter artists have recorded
supportive site statements and promos about ccMixter
and how it is music that connects them to each other, around the globe. Portions of those segments are included in the "Voices of ccMixter" video below.
Check out the press release with all of the details
HERE
and visit the IndieGoGo campaign
HERE
.
Please
help support ccMixter
- so we can remain, free, open and universal.
Even $5
makes a difference! Thank you. :)