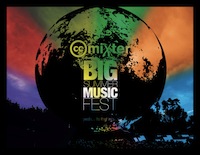 ccMixter artists from all around the world collectively created 500 new music tracks in a variety of genres this summer. The ccMixter's BIG Summer Music Fest was an expansive, collaborative experience for all who contributed.
Visit the virtual stages to experience this universe of music by theme: Pleiades Unplugged Lounge, Omega Roots Stage, Andromeda Alternative Theatre, Spirograph Soundscape Room, Hubble Hip-Trip Stage, & the DeepSpace Dance Tent.
We're working on curating BIG Fest podcasts, playlists and ccPlus albums to share with the world. So stay tuned!
Check out the 25 most listened to tracks from the BIG Fest overall. Listen to all of tracks, including remixes, samples, and pells HERE.